CHEF GATHERING IN BILOXI!
On December 3rd, Halperns' held a holiday chef gathering in Biloxi hosted by EXECUTIVE  CHEF KRISTIAN WADE at the BEAU RIVAGE CASINO. The gathering included a variety of our favorite suppliers who we are proud to partner with and allow them to showcase some of their best, most innovative items. Chefs from along the Gulf Coast were invited to come out, enjoy the tastings, and learn about a number of new items and applications. 
Check out what we heard, tasted and experienced!
Gourmet Kitchen's Ryan Walsh
Featured a selection of handmade hors d'oeuvres.
A Pacific Plaza Caviar tasting with Ryan Shiinoki
Featuring Smoked Sturgeon, Idaho Pristine, Golden Osetra, Osetra Classic and Osetra Royale.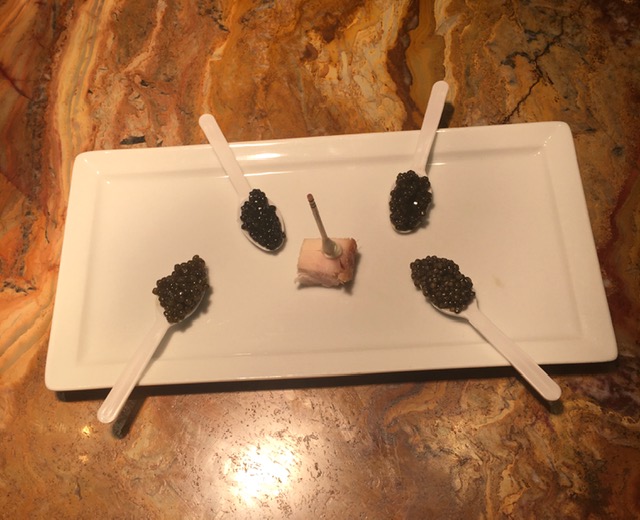 Chef One Foods, Lilly Bopha Chhay
Brought Authentic Dim Sum featuring several Chinese Specialties.
Town Dock's Mike Wallace
Walked us through Calamari 101, featuring Town Dock Domestic Calamari, Stuffed, Fried and Tossed.
Byron Freeze with WA Imports
Offered Japanese Specialty items and taught us how to incorporate these into menus. The Whiskey Barrel aged Shoyu was a hit!!
Brad Starnes from W-Black Australian Wagyu Beef – JBS
Cooked up exquisite Australian Wagyu Beef Tenderloin and Ribeyes with Organic Mushrooms and Black Garlic Molasses
Chef Tom Neeley from Halperns' Specialty Program
Brought an array of specialty products, cheeses, grains, mushrooms all of which were a big hit.
Special thanks to all who participated and came out to share some great items and information with our chefs. A big thank you to Chef Kristian and the hospitality team from BEAU RIVAGE CASINO.